Blepharitis – Definition
Blepharitis is inflammation of the eyelid. It is a very common eye disease that affects the edge of the eyelids and eyelash hair follicles. There are three main types of blepharitis:
Seborrheic blepharitis — Skin cells shed more rapidly than normal due to a sebaceous gland that is not functioning properly. The sebaceous gland secretes oil to the skin. The presence of excess oil and skin cells help bacteria grow.
Infectious blepharitis — Bacteria, in particular, staphylococcus, cause an infection in the glands along the eyelid.
Contact dermatitis blepharitis — Something coming in contact with the eyelid leads to local inflammation. For example, mascara may produce such an allergic reaction.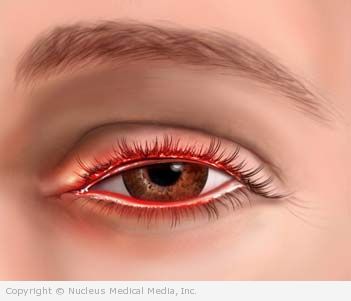 Blepharitis – Causes
The primary types of blepharitis are caused by either a skin condition or a bacterial infection. Blepharitis often occurs along with seborrheic dermatitis and acne rosacea.
Blepharitis – Risk Factors
A risk factor is something that increases your chance of getting a disease or condition. Risk factors for blepharitis include:
Seborrheic dermatitis
Acne rosacea
Contact allergies
Diabetes
Chemical irritants
Poor hygiene
Cosmetic makeup
Advanced age
Blepharitis – Symptoms
Symptoms depend on the cause of the blepharitis. They are usually worse in the morning and involve both eyes.
Symptoms may include:
Redness, flaky skin, and oily secretions along the edge of the eyelid
Crusty material clinging to the eyelashes
Eyelids "glued together" in the morning
Dry scales or dandruff-type material on the scalp and eyebrows
Itching or burning sensation
Tearing
Light sensitivity
Sensation of a foreign object in the eye
Ulcers or sores at the base of the eyelashes (in severe cases)
Scant, broken eyelashes
Chalazions (nonpainful bumps in the eyelid), which may become infected (called a stye)
Conjunctivitis (occasionally)
Blepharitis – Diagnosis
The doctor will take your temperature, ask about your symptoms and medical history, and perform a physical exam. Initially you may not have any special tests. If the inflammation looks unusual for blepharitis or fails to respond to treatment, the doctor may do a culture by passing a swab across the edge of the lid. The swab is sent to a lab to see if bacteria grow, and, if so, what kind. Your ophthalmologist may also decide to perform a biopsy by removing a tiny piece of the eyelid margin for microscopic examination to be certain that there is no sign of cancer (rarely, some cancers can mimic chronic blepharitis).
Blepharitis – Treatment
Blepharitis is a chronic condition that often requires long-term management. Treatment depends on the cause of the condition. Your doctor may advise you not to wear contact lenses until the blepharitis has resolved.
Hygiene
In mild cases, careful, daily eyelid hygiene may bring the inflammation under control:
Thoroughly wash your hands before performing any eye care.
Run a washcloth under warm water.
Place the warm washcloth on your eyelids for 5-15 minutes. This warm compress helps to loosen crust.
With your eyes closed, wash the eyelids with a special eyelid cleanser or diluted baby shampoo. Use a clean cotton ball for each eye.
Rinse with cool water.
Medication
If an infection is causing the blepharitis, you will be given antibiotic eye ointment. If your doctor advises, wash your eyelids as described above and apply the ointment with a cotton-tipped applicator. For a mild case, you may only need ointment at bedtime. If the infection is more severe, you may need to apply the ointment up to four times daily. Once resolved, your doctor may advise you to apply the ointment nightly to prevent another episode. If blepharitis returns after topical treatment, you may be given oral antibiotics, though this is rarely necessary. If oral antibiotics are necessary, they will need to be taken for an extended period of time, up to six weeks.
If you are diagnosed with blepharitis, follow your doctor's instructions.
Blepharitis – Prevention
If you are susceptible to blepharitis, conscientious eyelid hygiene can help prevent a recurrence:
Always wash your hands before touching your eyelids.
Wash your hair and face daily.
Wash your eyelids nightly as described above.
Try to avoid using cosmetic makeup.