Burns – Definition
A burn is damage to the skin and sometimes to the underlying tissues. Burns are categorized according to the depth and extent of the damage to the skin:
Superficial burn (also called first-degree burn)

Mildest type of burn
Often caused by ultraviolet light, or very short ("flash") flame exposure
Affects only the outer layer of the skin (epidermis)
Normally does not cause scarring
Takes about 3-6 days to heal

 Superficial partial-thickness burn (also called second-degree burn)

Often caused by a scald (spill or splash) or short ("flash") flame exposure
Affects the outer layer of the skin more deeply, usually causing blistering
May or may not cause scarring, but often does cause long-term skin color changes
Takes about 1-3 weeks to heal

Deep partial-thickness burn (also called second-degree burn)

Often caused by a scald (spill), may involve flame, oil, or grease
Affects the outer and underlying layer of skin (dermis), causing blistering
Usually causes scarring
Usually takes more than three weeks to heal

Full-thickness burn (also called third-degree burn)

Very serious
Often caused by scald (immersion), may involve flame, steam, oil, grease, chemicals, or high-voltage electricity
Damages all layers of the skin, and may involve the tissues underneath (muscle and bone)
Causes scarring
Will heal only at the wound edges by scarring, unless skin grafting is done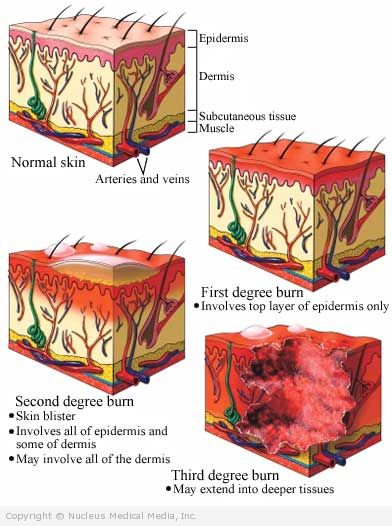 Burns – Causes
Burns can be caused by:
Heat or flame (thermal burns)

Hot foods or drinks such as boiling water, tea, or coffee
Hot oil or grease
Hot tap water
Direct heat such as stoves, heaters, or curling irons
Direct flame
Flammable liquids such as gasoline
Fireworks

Chemicals (chemical burn)—strong acids or strong bases such as:

Cleaning products
Battery fluid
Pool chemicals
Drain cleaners

Sunlight ( sunburn) or tanning beds
Electricity ( electrical burn)

Damaged electrical cords
Electrical outlets
High-voltage wires
Lightning

 Radiation (radiation burn)

Nuclear radiation
X-rays
Radiation therapy for cancer treatment
Burns – Risk Factors
A risk factor is something that increases your chance of getting a disease or condition.
Risk factors for burns include:
Age: less than four years
Sex: male
Low socioeconomic status
Smoking
Alcohol use
Illegal drug use
Absent or non-functioning smoke detectors
Substandard or older housing
Unsupervised or improperly supervised children
Using tap water hotter than 120°F
Burns – Symptoms
Burn symptoms and signs vary depending on the type of burn.
Superficial Burn
Symptoms include:
Burned area turns red and is painful
The area blanches (turns white) when you press on it
The area may swell, but it is dry and there is no blistering
Superficial Partial-Thickness Burn
Symptoms include:
Blisters
The area is moist, red, and weeping
The area blanches (turns white) when you press on it
Painful to air and temperature
Deep Partial-Thickness Burn
Symptoms include:
Blisters, usually loose and easily unroofed
The area can be wet or waxy dry
The skin color can vary from patchy, to cheesy white, to red
The area does not blanch (turn white) with pressure
May or may not be painful, can perceive pressure
Full-Thickness Burn
Symptoms include:
Skin can appear waxy white, leathery gray, or charred and blackened
May not be painful if nerves have been damaged, the only sensation may be to deep pressure
Burns – Diagnosis
The doctor will ask how the burn occurred and will examine the burned area.
Treatment will depend on the cause of the burn, how deep the burn is, and how wide an area of the body is covered. Doctors have methods and charts to estimate the total percentage of body surface area (TBSA) affected by the injury. This estimate is age dependent; for example, the head represents a larger percentage of surface area in a baby than in an adult.
Burns – Treatment
Treatment for a burn depends on the cause. Quick treatment is important and can lessen the damage to the tissues. First aid for minor burns may involve:
Cooling the burn with running water or a cold damp cloth. Do not use ice—this may result in more damage to the skin.
Do not use butter, grease, oils, or ointments on the burn.
Cover the burn with sterile gauze or a clean cloth.
Do not use a fluffy cloth such as a towel or blanket.
Take an over-the-counter pain reliever, like acetaminophen (Tylenol).
Do not break or pop any blisters. This may result in an infection.
If you see signs of infection, get medical attention. Signs of infection include:

Increased pain
Redness
Fever
Swelling
Oozing of pus
Once a minor burn is completely cooled, you can consider using a fragrance-free lotion or moisturizer to prevent drying and make the area more comfortable.
For more serious burns, like deep partial-thickness or full-thickness burns, seek medical attention or call 911. Until an emergency unit arrives:
Do not take off any clothing that is stuck to the burn.
Make sure the victim is not near or in contact with any smoldering materials, or exposed to further smoke or heat.
Do not soak the burn in water, but you can cover the area with a cool, moist sterile bandage or clean cloth.
As with any severe injury, make sure the person is breathing and administer CPR if necessary.
If you are diagnosed with more than a minor burn, follow your doctor's instructions.
Hospitalization
A doctor will decide if hospitalization is necessary based on many factors. These include age, the cause of the burn, and the extent and depth of the burn. Reasons to hospitalize a person who has more than a minor burn may include:
Age: younger than five years or older than 55 years
Suspected child abuse
Very small, deep burns on the hands, face, eyes, feet, or perineum (groin/genital area)
Extensive burn: using TBSA and age charts
Burns that may require complicated dressing changes, elevation, or continued physician observation
High-voltage injury or burn
Suspected or known inhalation injury
Circumferential burn
Other medical problems that predispose a person to infection, such as:

Diabetes
Immunosuppression
Sickle cell disease
Medical Treatment for Major Burns
If the burn is serious, the following treatments may be administered in a hospital:
Oxygen to help with breathing
Intubation
Intravenous fluids to replace those lost from the burn
Skin graft
Splints — placed on joints to help maintain mobility
Physical therapy, in the case of large burns
Burns – Prevention
Most burns are the result of accidents. To prevent burns:
Teach children about fire prevention and keep dangerous materials out of reach.
Make sure smoke detectors are installed and in working order. Replace batteries twice a year. (One way to remember to do this is to change batteries the same days you change the clocks for daylight savings time.)
When cooking, keep pot handles turned toward the back of the stove.
Supervise young children in the kitchen and around fireworks.
Set the temperature on the water heater to less than 120°F and test the bath water before your child gets in.
Make sure children's sleep wear is flame-resistant.
Don't hold children in your arms or lap while cooking, serving, or eating hot foods or liquids.
Do not leave matches, lighters, candles, or burning cigarettes unattended.
Wear protective gloves and clothing when handling caustic chemicals.
Put protective covers on electrical outlets.
Do not wear loose-fitting sleeves while cooking.
Keep children and pets away from the stove while cooking.
Make sure electrical cords are not hanging over the edge of countertops.
Store chemicals and cleaners in a locked cabinet.
Children younger than one year can sustain partial-thickness burns from hot seat belt straps or buckles in car seats. Make sure car seats are not hot before putting a child in the seat. If you park in the sun, cover the seat with a towel.