Rickets and Osteomalacia – Definition
Rickets (in children) and osteomalacia (in adults) are two forms of a metabolic bone disease resulting from vitamin D deficiency. Both cause softening and weakening of bones because of defective or inadequate bone mineralization.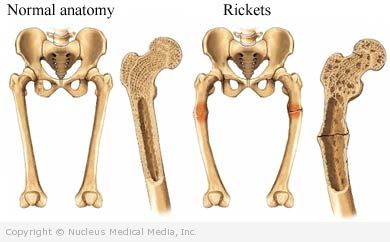 Rickets and Osteomalacia – Causes
Rickets and osteomalacia result when there is a vitamin D deficiency in the body. This may occur when:
The supply of vitamin D from the diet or sun exposure is inadequate.
The metabolism of vitamin D is abnormal.
Tissue is resistant to the action of vitamin D.
Vitamin D regulates calcium absorption in the body. It also controls levels of calcium and phosphate in bone. Vitamin D is absorbed in the intestines from food. Vitamin D is also produced by the skin during exposure to sunlight.
Most often, rickets and osteomalacia are caused by a deficiency of vitamin D. This can result from:
Insufficient vitamin D in the diet. In children, this may be related to:

Insufficient consumption of vitamin D-fortified milk
Insufficient intake of vitamin D supplements to children being breastfed or to children who are lactose intolerant

Lack of exposure to sunlight.
Less often, rickets and osteomalacia can be caused by other disorders that affect vitamin D absorption, metabolism, or action in the body such as:
Kidney problems:

A hereditary disorder of the kidney called vitamin D-resistant rickets
Renal tubular acidosis—a nonhereditary kidney disorder which causes bone calcium to dissolve
Chronic kidney failure
Long-term kidney dialysis

Diseases of the small intestines with malabsorption
Disorders of the liver or pancreas disease
Cancer
Certain drugs, such as:

Certain seizure medications, such as phenytoin (Dilantin, Phenytek) or phenobarbital (Luminal Sodium)
Acetazolamide (Diamox)
Ammonium chloride
Disodium etidronate (Didronel)
Fluoride treatment

Toxicity or poisoning from:

Cadmium
Lead
Aluminum
Outdated tetracycline
Rickets and Osteomalacia – Risk Factors
A risk factor is something that increases your chance of getting a disease or condition. Risk factors for rickets/osteomalacia include:
Lack of sun exposure
Age in children: 6 to 24 months old

Babies who are breastfed (Breast milk is low in vitamin D.)
Babies who do not consume enough formula that is fortified with vitamin D
Children who do not drink enough vitamin D fortified milk

Age in adults: 50-80 years
Lactose intolerance with inadequate intake of vitamin D-fortified milk
Family history of rickets
Race: Black, especially in association with breastfeeding
Rickets and Osteomalacia – Symptoms
Symptoms may include:
Bone pain and tenderness
Skeletal and/or skull deformities
Bow legs or knock knees
Deformity or curvature of the spine
Pigeon chest (forward protrusion of the chest bone)
Impaired growth, resulting in short stature
Susceptibility to bone fractures
Dental deformities
Delayed tooth formation
Defects in teeth
Increased cavities
Loss of appetite or weight loss
Difficulty sleeping
Poor muscle development and tone
Muscle weakness
Delay of learning to walk in children
Rickets and Osteomalacia – Diagnosis
The doctor will ask about your symptoms and medical history, and perform a physical exam. Tests to confirm the diagnosis may include:
Blood and urine tests
X-ray — a test that uses radiation to take a picture of structures inside the body, in this case, bones
Bone biopsy (when other tests are not conclusive)
Rickets and Osteomalacia – Treatment
Treatment attempts to:
Correct the underlying cause
Relieve or reverse symptoms
Treating the Underlying Cause
Treatment of the underlying cause may include:
Adding the following to your diet:

Vitamin D-fortified dairy products
Foods high in vitamin D (such as fatty fish, egg yolk, and green vegetables)
Supplements of vitamin D, calcium, and other minerals
Biologically active vitamin D

Adequate but not excessive exposure to sunlight
Treating Symptoms
Treatment to relieve or correct symptoms may include:
Wearing braces to reduce or prevent bony deformities
In severe cases, surgery to correct bony deformities
Rickets and Osteomalacia – Prevention
To help prevent rickets or osteomalacia:
Drink vitamin D-fortified milk.
Consume sufficient vitamin D, calcium, and other minerals. If you think your diet may be deficient, talk with your doctor about alternate sources of vitamins and minerals.
Get sufficient, but not excessive, exposure to sunlight. Fifteen minutes a day is usually considered sufficient. Any longer than that requires sun protection with clothing or sunscreens, especially in fair-skinned infants or children. Children with dark skin and their mothers are at increased risk for rickets and may need more sun exposure and dietary supplementation with vitamin D.
Breastfed babies and bottlefed babies who do not get enough vitamin-D fortified formula may need to be given a supplement starting within the first few days of life. Children not getting at least 400 units of vitamin D from their diet may also need supplements. Talk to the doctor to make sure your child is meeting the nutritional requirements for vitamin D.